Since 1980 31 YEARS OF
EVOLUTION
GAC® Smooth, cost saving, easy laydowns from start to finish. Superior manufacturing and design.
GAC'S Installation equipment began in 1980. Thirty-one years of research and development has resulted in six patents on nine features. They place fabric much faster and virtually wrinkle free. They also have the ability to place fabric next to curbs, guardrails, fences, asphalt lifts and other obstacles easily with less labor costs.
AT FIRST LAYDOWN UNITS WERE CLUMSY - three-piece bolt together and, later, manual folding units. Fabric placement was wrinkled affecting a jobs longevity. A cumbersome set-up and time-consuming laydown increased labor costs and stalled production. Some of these are still sold today.
IN 1980 I DEVELOPED MODEL 750, a heavy duty mechanical or hydraulic folding unit designed for mobility. I refined the unit on thousands of jobs. It became the Rolls Royce of laydown units.
GAC'S SIX PATENTS were developed on thousands of jobs in 29 countries, installing hundreds of millions of square meters. After 20 years and 100s of changes we're still improving. New features on the GRIZZLY include telescoping arm stops. The brush edges stop at exactly 10-1/2', 12-1/2' and 15'. GRIZZLY and CUB have a new articulating center leveling brush mount, with an adjustable height of 3 1/2". All brush adjustments are done from the outside jacks - it's faster, safer and easier for the crew. Brushes can be straightened for installing grid.
FINALLY, EVERY POSSIBLE INSTALLATION PROBLEM WAS SOLVED Highways, airports, parking lots, city streets, mobile home parks and curvy country and mountain roads all become easy installations.
IN 1990, I REALIZED THE MACHINE DIDN'T NEED TO FOLD, it could telescope. Instead of a Rolls Royce, I now had a Ferrari. GRIZZLY, a powerful double bar mainframe that telescopes 1' to 20'. GRIZZLY became a super heavy duty, full featured, smooth, versatile, cost-saving friend that was a bear to build.
IN 1995 GRIZZLY HAD A KID, THE CUB - a 1' to 15-1/2' telescoping single bar mainframe unit. It's not quite as strong and lacks some of its dad's features but it has all of the patented ones for a smooth, fast, cost saving laydown.
GAC ATTACHMENTS COST LESS TO USE. They replace or clamp on the bucket, attaching on and off endloaders in minutes. Equipment need not be tied up or new equipment purchased. Remember, it's not the tractor, it's the laydown unit that installs the fabric. A special oil truck mounting system is available. GAC's smooth, laydown takes less time and labor, speeding the jobs production.
THINK ABOUT IT! HOW MUCH DOES YOUR TOTAL PAVING OPERATION COST PER HOUR OR DAY? GACs cut hours or days off projects. You get a bid advantage or keep from being at a disadvantage. GAC's recoup their cost so fast it's like getting your machine free! New crews look like old pros in just a couple of rolls using the GRIZZLY or CUB.
EVERYONE WINS! Contractors, Fabric Distributors, Fabric Manufacturers, Project Owners, Design and Field Engineers all benefit with GAC's proper installation. Projects perform to their maximum, lasting longer and costing less to the owner. The better the performance the more engineers will specify fabric increasing fabric sales. Contractors like installing fabric better when it's easy and less costly. Field Engineers don't have to fight to get fabric placed correctly. Design Engineers don't have to worry about the fabric's performance. Everyone wins when GACs are used.

OVER 99% OF ALL GAC MACHINES SOLD IN THE PAST 31 YEARS ARE STILL INSTALLING FABRIC!
CLICK ON IMAGE TO ENLARGE... USE BACK BUTTON ON BROWSER TO RETURN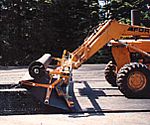 GRIZZLY tractor mounted, no bucket, installing a
12-1/2 roll.

Patented Dual Bar Tensioning System and Chevron Angled Brushes reduce wrinkles reducing labor costs.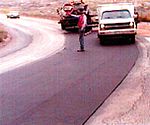 GRIZZLY mounted on an oil truck installing oil and fabric at one time around a mountain road curve.

Notice the smooth, almost wrinkle-free edges.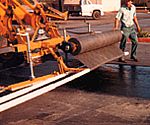 GRIZZLY installing a 6' roll using the Patented Third Middle Arm with Patented Braking Roll Holders.

CUB bucket mounted, installing a 10-1/2' roll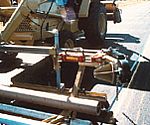 GRIZZLY with both arms telescoped for 18' fabric.
Optional hydraulic patented Crabclaw Swing Arm
Patented Braking Rotating Spindle Roll Holder with solid steel cone controls how fabric tension .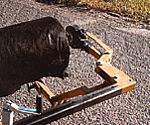 GRIZZLY and CUB Patented Mechanical Crabclaw Swing Arm.
GRIZZLY predrilled holes for adapting to hydraulic telescoping at any time.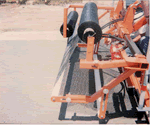 PVC ROLLER SYSTEM for Grids and stiff fabrics replaces the dual tensioning PVC system.